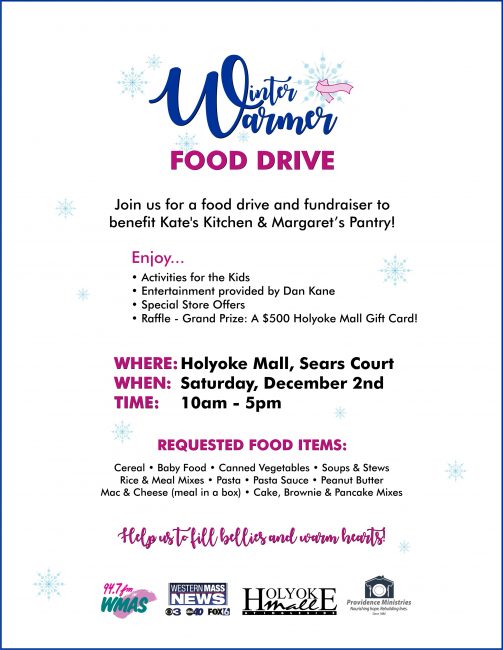 Bring food, gather friends, and join in the fun. We cannot do this work without YOU. We ask you to consider giving this year to fill bellies and warm hearts during our Winter Warmer.
Requested food items: Cereal, Baby Food, Canned Vegetables, Soups & Stews, Rice & Meal Mixes, Pasta, Pasta Sauce, Peanut Butter, Mac & Cheese (meal in a box) and Cake, Brownie & Pancake Mixes.
Food insecurity is on the rise: At Margaret's Pantry alone, they are experiencing the highest volumes of food needs with a 35% increase in food distribution from this time last year. With families arriving from Puerto Rico, the food need grows. They also serve over 750 children annually. In this time of giving, we ask that you give with your full heart.
The activity and entertainment schedule is as follows:
10am- noon: Children's activities including Forest Park's Zoo on the Go!, Christine the Happy Face painter, crafts with ACMoore and balloon artist, Ed Popielarczyk
11am- 1pm: Six Flags Holiday Characters
Noon – 3pm: Dan Kane's Rising Stars
3pm – 5pm: 94.7 WMAS
4:15pm: New England Dance Center's Performance Troupe
5pm: Santa arrives to pull raffle winner