COMCAST UNVEILS NEW XFINITY STORE AT HOLYOKE MALL
Consumers Invited To Explore Products, Manage Services at Convenient, Interactive Retail Space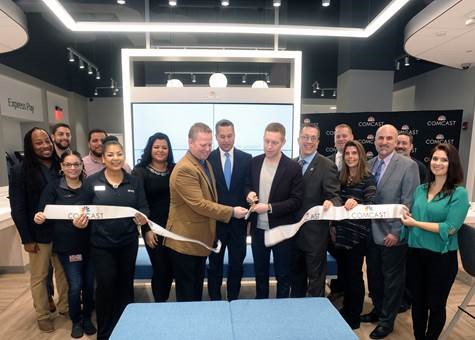 HOLYOKE, MA – (November 20, 2018) – In time for Black Friday and holiday shopping, Comcast today held a ribbon-cutting ceremony to celebrate the grand opening of its newest Xfinity Store, which is conveniently located on the upper level of the Holyoke Mall. The 4,691-square-foot space is the first Xfinity Store in the region to open in a mall setting and is focused entirely around the needs of customers. Consumers will have the opportunity to explore, learn about and interact directly with the latest Xfinity products and services, including Xfinity Mobile. In addition, the store offers a dedicated space where Comcast Business customers and prospects can discover cutting-edge business solutions and get connected with a local expert to discuss their business technology needs.
Local officials and community leaders, including Holyoke Mayor Alex Morse, State Representative Aaron Vega, City Council President Todd McGee, Ward 3 City Councilor David Bartley, Ward 2 City Councilor Nelson Roman and Greater Holyoke Chamber of Commerce President Barry Feingold, came out to celebrate the grand opening and tour the new store.
"The opening of Comcast's new Xfinity Store bears testament to the thriving business climate in Holyoke," said Barry Feingold, president of the Greater Holyoke Chamber of Commerce "We love to see this kind of investment in the area, especially with the latest technology that Xfinity and Comcast Business can offer customers for their homes and to help grow their businesses.  We're excited to work with Comcast at its beautiful, new Xfinity Store at the Holyoke Mall."
Michael Parker, senior vice president for Comcast's Western New England Region, which includes Western Massachusetts, added, "We're proud to be a part of the Holyoke community and are excited to open this store in a convenient location for a greater number of our customers. Xfinity Stores are the ultimate showcase for consumers to experience how Xfinity products — including Xfinity X1, Xfinity Internet, Xfinity Home and Xfinity Mobile — connect and simplify their lives."
In addition, Bill Rogalski, general manager of the Holyoke Mall, said, "Our goal is to continuously improve our shopper's experience by providing convenient services, like Comcast's experiential Xfinity Store, in addition to our great retail, dining, and entertainment options."
At the new Xfinity Store in the Holyoke Mall, customers will receive personalized service from 12 trained and knowledgeable Sales Consultants at the. The store is the second of its kind in Western Massachusetts and is conveniently located within the Holyoke Mall at 50 Holyoke Street and is open Monday through Saturday from 10 am – 9:30 pm and on Sundays from 11 am – 6 pm.
The opening of this interactive Xfinity Store is part of Comcast's multi-year journey to transform its customer experience and create a culture focused on exceeding customers' expectations, at all levels of the company. The Holyoke Mall store features flat-screen HDTVs, interactive iPads, a comfortable seating area and strategically designed product areas— Xfinity X1, Xfinity Internet, Xfinity Home and Xfinity Mobile—so customers can see the industry-leading products in action. The store is also the first in the region to incorporate Comcast's retail technology enhancements, including: the Xfinity Internet Zone, where customers can discover Xfinity xFi, a digital dashboard that lets customers personalize, manage and control their home Wi-Fi experience; and the Connected Home Zone, which showcases how Xfinity Home combines the best of home security and automation into one simple experience.
About Comcast
Comcast Corporation (Nasdaq: CMCSA) is a global media and technology company with three primary businesses:  Comcast Cable, NBCUniversal, and Sky.  Comcast Cable is one of the United States' largest video, high-speed internet, and phone providers to residential customers under the Xfinity brand, and also provides these services to businesses.  It also provides wireless and security and automation services to residential customers under the Xfinity brand.  NBCUniversal is global and operates news, entertainment and sports cable networks, the NBC and Telemundo broadcast networks, television production operations, television station groups, Universal Pictures, and Universal Parks and Resorts.  Sky is one of Europe's leading media and entertainment companies, connecting customers to a broad range of video content through its pay television services.  It also provides communications services, including residential high-speed internet, phone, and wireless services.  Sky operates the Sky News broadcast network and sports and entertainment networks, produces original content, and has exclusive content rights.  Visit www.comcastcorporation.com for more information.
#  #  #