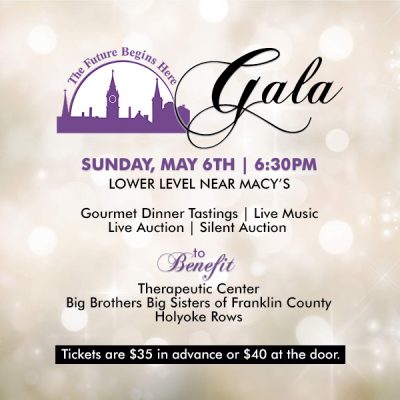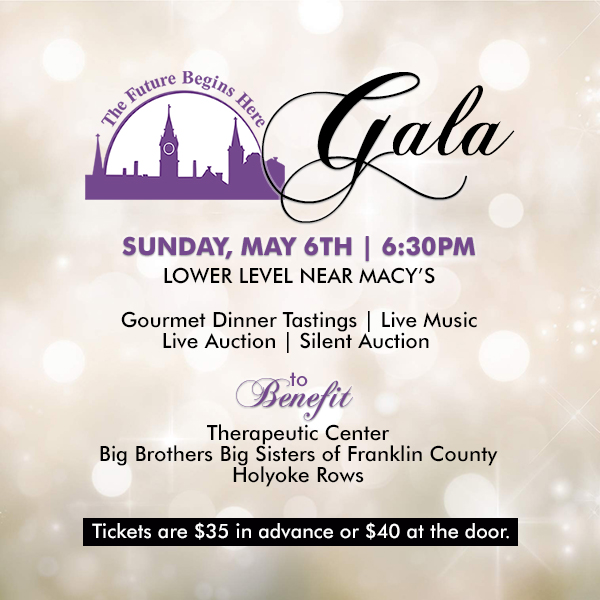 Join us for the 27th Annual Future Begins Here Gala on Sunday, May 6th at 6:30pm on the Lower Level near Macy's!
Hosted again this year by Western Mass News' anchor Dave Madsen, The Future Begins Here Gala will kick off with a prosecco and hors d'oeuvres reception for Gala guests at 6:30pm followed by the main event at 7:00pm.
For just $35/per person attendees will be treated to a gourmet dinner tasting provided by the Fine Dining Group, that includes Alina's Ristorante, The Delaney House, Eastside Grill, The Whately Inn and The Federal.
Local brews will be available for tastings for just $15 per person (21 and older), Gala attendees will receive a commemorative tasting glass giving them access to a variety of beers from The People's Pint Brewery of Greenfield and New City Brewery of Easthampton.
The event also features a live and silent auction with special guest caller George Lewis, a cash bar provided by Uno Chicago Grill and live music by the Basement Cats.
Proceeds from the event will benefit the Therapeutic Equestrian Center of Holyoke, Big Brothers Big Sisters of Franklin County and Holyoke Rows.
For tickets and more information please visit, www.futurebeginshere.org.