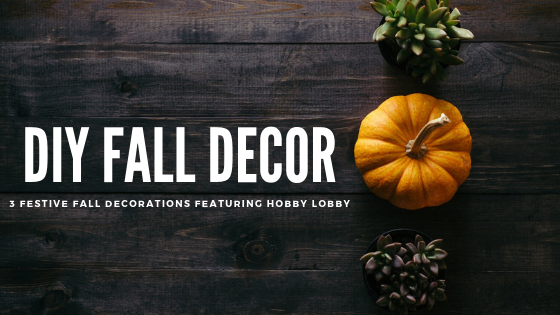 DIY Decor: Festive Fall Decorations at Hobby Lobby
September 6, 2018

|

IN Lifestyle
Fall is in the air, and we are here to help you bring the season into your home with three quick and easy DIY Decor ideas.
Scaredy Pot
Inspired by Hobby Lobby Crafts
Supplies:
Four Small Clay Pots
One Medium Clay Pot
One Large Clay Pot
Jute Twine or String
Acrylic Paint and Brushes
Burlap
Straw
Hot Glue Gun
Instructions:
Step One: Cover the base of the medium-sized pot with burlap leaving only the rim uncovered and secure with hot glue
Step Two: Use the acrylic paint to create the scarecrow's face and allow to dry
Step Three: Cut four long pieces of jute twine and knot together at one end. Thread the twine through the medium-sized pot allowing the knot to sit inside on the bottom of the pot
Step Four: Position two strings to the side of the medium-sized pot creating the arms and thread remaining two strings through the large upside-down pot to create the legs
Step Five: Thread twine through each of the small pots and knot to secure
Step Six: Add the straw to the inside of each of the pots and cut small pieces of burlap to embellish as desired 
---
DIY Falling Leaves Garland
Inspired by House of Jade Interiors
Supplies:
Artificial Leaves
Foam Brush
Glue or Mod Podge
Glitter (Various Colors)
Hole Punch
Ribbon
Instructions:
Step One: Paint a thin layer of glue covering one side of the leaf
Step Two: Sprinkle glitter onto leaf ensuring the entire surface area is covered
Step Three: Allow glue to set and shake off extra glitter
Step Four: Let dry and repeat on the other side
Step Five: Measure space where you will hang the garland and cut ribbon accordingly
Step Six: Punch holes in the leaves
Step Seven: Cut a piece of ribbon for each leaf and knot at one end then thread the ribbon through the leaf and attached to the long ribbon 
---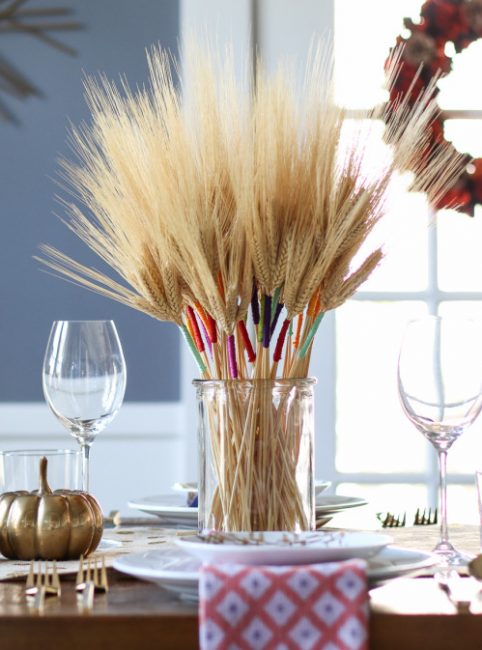 Color Wrapped Wheat
Inspired by Inspired By Charm
Supplies:
Golden Wheat Bundles
Colored String or Embroidery Floss
Scissors
Instructions:
Step One: Separate wheat into groups of 5 to 7 stalks
Step Two: Select a color of string and tie a knot to secure the wheat together
Step Three: Begin to wrap the string around the wheat creating a two-inch section of the string
Step Four: Tie knot and cut string
Click Here to read more blog articles!