Curbside Pickup!
As we work through these challenging times, Holyoke Mall wants to ensure that methods are in place that will make our guests feel safer about their shopping experience. Curbside@Holyoke offers 16 curbside parking spaces at most of our main mall entrances throughout the property for ease of curbside pick-up.
The following stores are currently offering curbside pickup:
110 Grill • Aerie • American Eagle • Apple • Best Buy • Build-A-Bear Workshop • Hollister • Hot Topic • JCPenney • Kay Jewelers • Lane Bryant • Loft • Macy's • Ninety Nine Restaurant & Pub • PacSun • Sephora • Target •  Yankee Candle
Please contact individual stores directly for instructions on how to pick up your order from that particular store.
***Each Curbside@Holyoke parking space is numbered and are first come, first serve.
***Macy's, JCPenney, Target and Best Buy each offer their own curbside parking spaces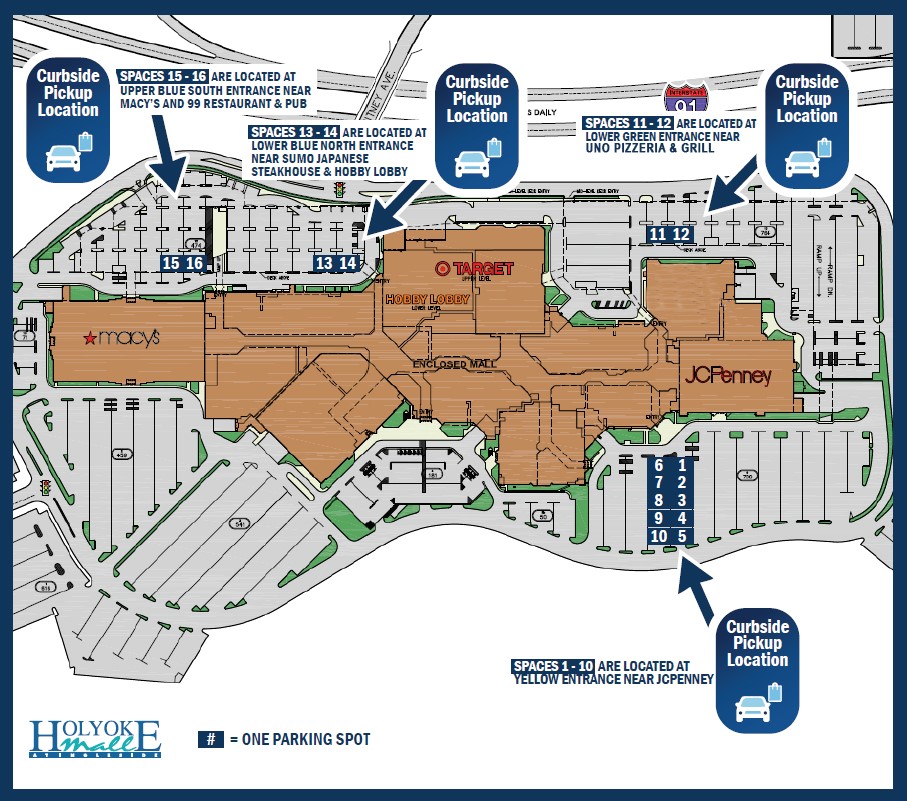 ---
Buy Online Pickup In-Store!
For your convenience, many of our stores have the option to Buy Online, Pickup In-Store to help make your shopping stress free!  Below is a list of retailers providing this option.  We encourage you to contact individual stores directly for details.
110 Grill:
🛒: https://110grill.alohaorderonline.com/Time.aspx
📍: Located on the Upper Level near JCPenney
🔗: https://www.holyokemall.com/tenants/110-grill/
American Eagle:
📍: Located on the Lower Level near Center Court
🔗: https://www.holyokemall.com/tenants/american-eagle/
Apple:
📍: Located on the Upper Level near Center Court
🔗: https://www.holyokemall.com/tenants/apple/
AT&T:
📍: Located on the Upper Level near Journeys
🔗: https://www.holyokemall.com/tenants/att/
Best Buy:
📍: Located on the Upper Level near JCPenney
🔗: https://www.holyokemall.com/tenants/best-buy/
BoxLunch:
📍: Located on the Upper Level near H&M
🔗: https://www.holyokemall.com/tenants/box-lunch/
Build-A-Bear Workshop:
🛒: https://www.buildabear.com/
📍: Located on the Upper Level near H&M
🔗: https://www.holyokemall.com/tenants/build-a-bear-workshop/
Charley's Philly Steaks:
🛒: https://order.charleys.com/menu/holyoke-mall
📍: Located in Café Square
🔗: https://www.holyokemall.com/tenants/charleys-philly-steak/
DSW:
📍: Located on the Upper Level near Macy's
🔗: https://www.holyokemall.com/tenants/dsw/
Express:
📍: Located on the Upper Level near H&M
🔗: https://www.holyokemall.com/tenants/express/
Finish Line:
🛒: https://www.finishline.com/
📍: Located on the Lower Level near GAP Factory
🔗: https://www.holyokemall.com/tenants/finish-line/
Forever 21:
📍: Located on the Upper Level near JCPenney
🔗: https://www.holyokemall.com/tenants/forever-21/
Foot Locker:
🛒: https://www.footlocker.com/
📍: Located on the Lower Level near JCPenney
🔗: https://www.holyokemall.com/tenants/foot-locker/
Francesca's:
🛒: https://www.francescas.com/
📍: Located on the Upper Level near Target
🔗: https://www.holyokemall.com/tenants/francescas/
GameStop:
📍: Located on the Upper Level near Macy's
🔗: https://www.holyokemall.com/tenants/gamestop/
Hollister:
🛒: https://www.hollisterco.com/shop/us
📍: Located on the Lower Level near Macy's
🔗: https://www.holyokemall.com/tenants/hollister-co/
Hot Topic:
📍: Located on the Lower Level near JCPenney
🔗: https://www.holyokemall.com/tenants/hot-topic/
JCPenney:
🔗: https://www.holyokemall.com/tenants/jcpenney/
Journey's:
📍: Located on the Upper Level near AT&T
🔗: https://www.holyokemall.com/tenants/journeys/
Journey's Kidz:
🛒: https://www.journeys.com/kidz/
📍: Located on the Upper Level near AT&T
🔗: https://www.holyokemall.com/tenants/journeys-kidz/
Kay Jewelers:
📍: Located on the Lower Level near Center Court
🔗: https://www.holyokemall.com/tenants/kay-jewelers/
Lane Bryant:
🛒: https://www.lanebryant.com/
📍: Located on the Upper Level near Macy's
🔗: https://www.holyokemall.com/tenants/lane-bryant/
LOFT:
📍: Located on the Upper Level near JCPenney
🔗: https://www.holyokemall.com/tenants/loft/
Macy's:
🔗: https://www.holyokemall.com/tenants/macys/
Ninety Nine Restaurant & Pub:

🛒: https://order.99restaurants.com/menu/holyoke-ma
📍: Located on the Upper Level near Macy's
🔗: https://www.holyokemall.com/tenants/ninety-nine-restaurant-pub/
Old Navy:
📍: Located on the Upper Level near Macy's
🔗: https://www.holyokemall.com/tenants/old-navy/
PretzelMaker:
🛒: https://pretzelmaker.olo.com/menu/holyoke-mall-at-ingleside
📍: Located on the Upper Level near JCPenney and Upper Level near Macy's
🔗: https://www.holyokemall.com/tenants/pretzel-maker/
Rack Room Shoes:
🛒: https://www.rackroomshoes.com/
📍: Located on the Lower Level near JCPenney
🔗: https://www.holyokemall.com/tenants/rack-room-shoes/
Sephora:

📍: Located on the Upper Level in Center Court
🔗: https://www.holyokemall.com/tenants/sephora/
Sumo Japanese Steakhouse & Sushi Bar:

🛒: http://www.sumoholyokemall.com/#!/
📍: Located on the Lower Level near Hobby Lobby
🔗: https://www.holyokemall.com/tenants/sumo-japanese-steakhouse/
Target:
🔗: https://www.holyokemall.com/tenants/target/
Torrid:
📍: Located on the Upper Level near Macy's
🔗: https://www.holyokemall.com/tenants/torrid/
Victoria's Secret:

🛒: https://www.victoriassecret.com/us/
📍: Located on the Upper Level near Macy's
🔗: https://www.holyokemall.com/tenants/victorias-secret/
Zumiez:
📍: Located on the Lower Level near JCPenney