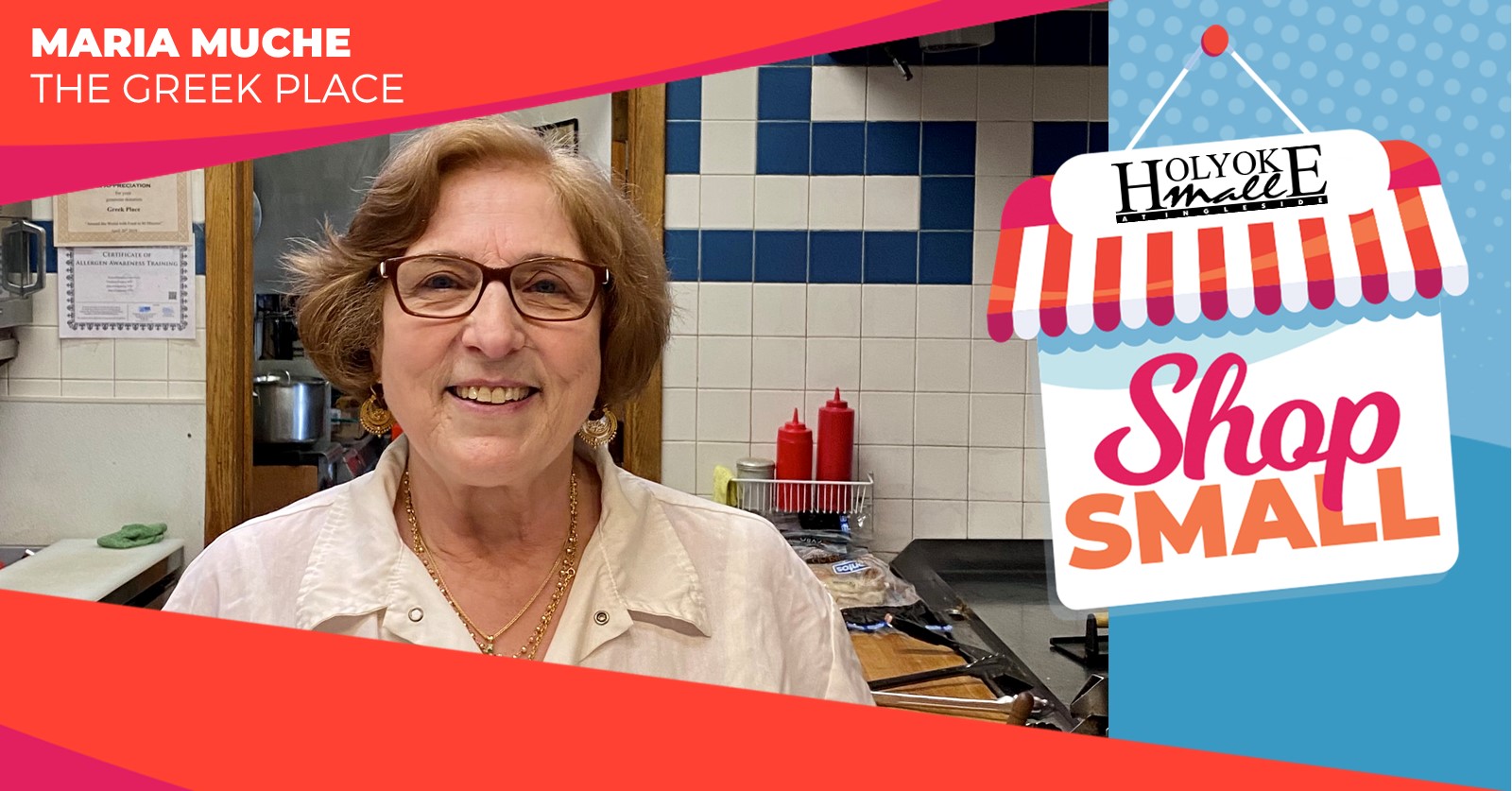 Shop Small Spotlight: The Greek Place
November 19, 2021

|

IN Eat, Shop Small
Almost everyone in western Mass, and beyond, knows Maria and has dined at The Greek Place at some point over the last 42 years. The Greek Place, which opened in 1979 along with the mall, is a small, family-run business dedicated to serving authentic Greek cuisine prepared with love. The name has changed a few times, but Maria has always been there, working tirelessly to prepare delicious meals in a welcoming atmosphere.
Gyros, Greek Salads, and Kabobs with Lamb, Chicken, or Falafel, as well as seafood dishes, are all popular at The Greek Place. You'll also enjoy their Grape Leaves, Spinach Pies, Baklava, and more!
We asked Maria what made her decide to open a Greek restaurant.  She replied, "I met my ex-husband while working in a tool manufacturing plant in the 70s. We often discussed possible business ventures and eventually decided to start a Greek restaurant where we would serve delicious, unique cuisine made with fresh ingredients and share a part of our culture with the Pioneer Valley community."
The Greek Place is unique in that, aside from JCPenney, they are the only tenant that is original to the mall. Another distinguishing feature that sets them apart is that they are immigrant and woman-owned. "We are one of the few businesses where the CEO will make you lunch," said Maria.
Maria decided to open her restaurant at Holyoke Mall during the shopping boom in the 1970's. Maria said, "Malls were becoming the new city centers, where people would meet to discover the latest fashion alternatives, enjoy a meal, or simply spend time with one another while catching up and exploring everything the mall had to offer."
Maria's advice to anyone who wants to open their own business, "It will take a lot of hard work and determination to persevere and make your business a success. Keep your head up and devote yourself to your business and it will succeed."
Next time you're in the mall, stop by The Greek Place and enjoy a delicious gyro made by Maria!