He's making a list and covering his face, and in addition, this year, he's taking steps to keep everyone safe… Santa Claus IS coming to town! Holyoke Mall has taken the liberty to alter the lyrics of the famous Christmas jingle to announce Santa's return in 2020. In coordination with Cherry Hill Programs, the industry-leader in experiential holiday photography experiences, Santa is scheduled to arrive at Holyoke Mall on Black Friday, November 27th, 2020.
There will be plenty of fun and magic, as well as a focus on the health and well-being of everyone. Guests are encouraged to plan their visit with Santa ahead of time and review the safety measures being taken based on guidance from the Centers for Disease Control & Prevention online at WhereIsSanta.com or at Cherry Hill Guidelines. Some of these safety measures include:
Contactless Visit with Santa:
This year guests will notice a number of changes throughout their in-person visit with Santa – all designed to support the health and well-being of guests, staff and Santa. Most importantly, they will offer a contactless experience with Santa.
Children will still be able to have a magical visit with Santa and share their wish list, but the experience will be contactless and children will not sit on Santa's lap.
Reservations:
Visits with Santa are by reservations only.  No walkups are allowed.  Reservations can be made by CLICKING HERE.
Behind the Scenes:
Santa and staff will have daily health screenings and temperature checks, and there will be a focus on hygiene and cleanliness at the set. Overall, the experience with Santa will follow the guidance from the Centers for Disease Control & Prevention and local health agencies.
Cherry Hill is also training Associates to engage with Guests and promote physical distancing guidelines throughout their visit and in queues.
Cherry Hill has increased cleaning and disinfection throughout the experience.
Treatment of Fabric: In between shifts Santa's suit is regularly sprayed with disinfectant, a Lysol spray or similar product.
Safety Protocols:
Best practices will be followed: maintaining social distance, face masks required for everyone and enhanced cleaning between visits.
 Social Distancing:
Guests will experience physical distancing practices at the set, including maintaining social distance in queues and physical barriers where space doesn't allow for 6 feet of separation.
Directional signage has been installed to assist Guests to responsibly move throughout the experience. Additionally, ground markings will help promote proper physical distancing when queuing is needed.
Plexiglass will be used to keep guests, employees and Santa safe where needed.
Face Coverings:
All Guests ages 2 and older are required to wear face coverings when visiting a Cherry Hill Programs experience. All face coverings should:
Fully cover an individual's nose and mouth and allow the Guest to remain hands-free.
Fit snugly but comfortably against the side of the face.
Be secured with ties or ear loops.
Be made of breathable material, either disposable or reusable material is acceptable. Costume masks are not considered appropriate and are prohibited from being worn.
Guests are required to wear face coverings at all times. The use of face coverings should not be seen as a substitute for physical distancing.
Cashless Transactions:
At this time, it is recommended all Guests use cashless payment options whenever possible during their visit including debit cards, credit cards, Apple Pay, etc. Guests are also encouraged to opt for contact-less payment by making an advanced reservation to visit Santa Claus.
For more information about Cherry Hill Programs protocols, click here: www.cherryhillprograms.com/CovidGuidelines.
For more information about Holyoke Mall/Pyramid Management Group protocols, click here: https://www.holyokemall.com/wp-content/uploads/sites/12/2020/10/2020-10-28-Holyoke-Healthy-Shopper-Guidelines.pdf.
---
Santa's Schedule at Holyoke Mall: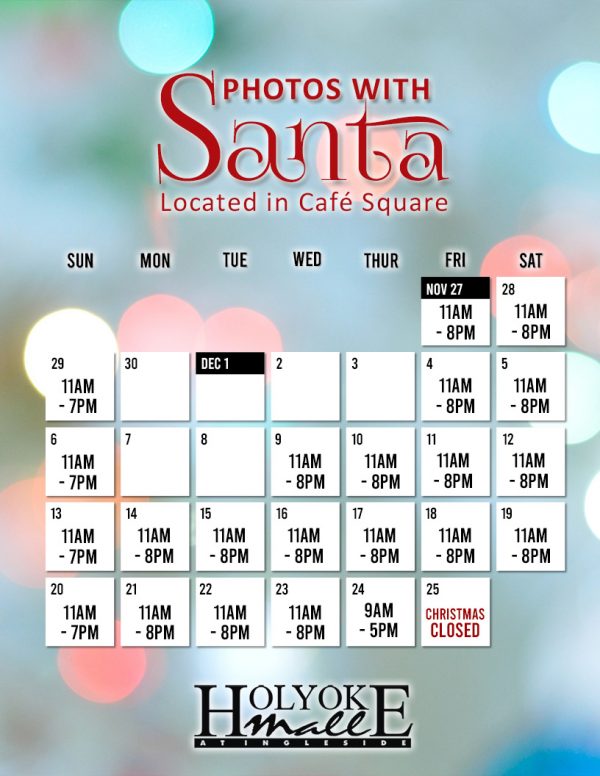 Photo Packages Available:

---
Virtual Experience with Santa!
If you can't make it to the mall to see Santa in person, or just want to add some extra magic this holiday season, we have the perfect experience for you! Check out Cherry Hill's new interactive digital platform, Create Holiday Magic, that allows your children to connect with Santa throughout the season!
Live VIP Zoom Video Call with Santa
Premium Holiday Traditions Gift Box
My Photo with Santa
Pet Photo with Santa
Exclusive Video Story Time with Santa
Several Virtual Packages Available
Visit Create Holiday Magic to make it a Christmas your family will never forget! Click here to get started.