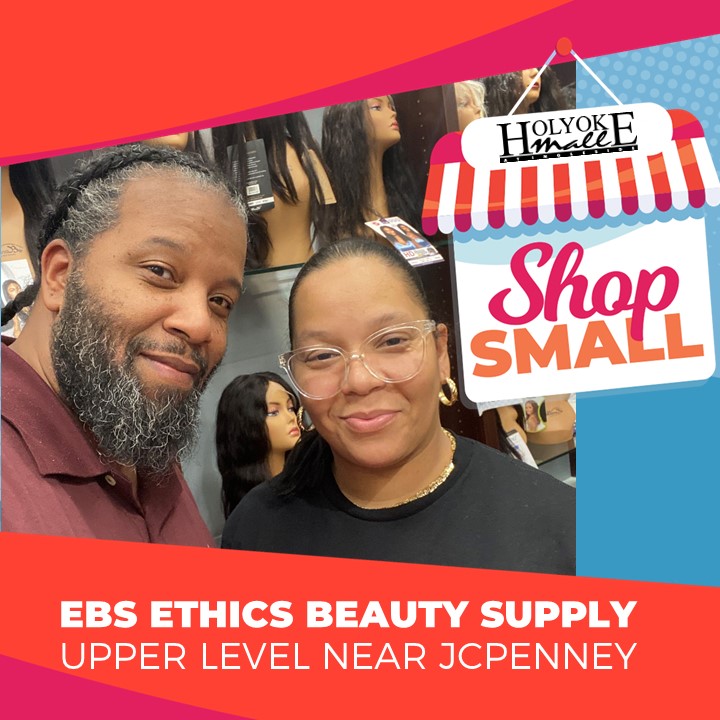 Shop Small Spotlight: EBS Ethics Beauty Supply
November 24, 2021

|

IN What's Happening
Meet Lee Crenshaw, owner of EBS Ethics Beauty Supply, located on the Upper Level near JCPenney.
EBS is a beauty supply store specializing in Wigs, Hair Extensions and Fashion Accessories. Their primary goal is to educate and empower their consumers while maintaining a comfortable and safe atmosphere for everyone.
Lee says their store's concept was developed through trial and error. "Our first location consisted of a few stores in a small conglomerate. Our main line of business was the sale of women's and men's clothing. Within the store, there were two smaller sections: one focused on manufacturing airbrush T-shirts, and the other was equipped with beauty products."  Lee added, "We noticed a rise in demand for more beauty goods as we garnered support and exposure from our community. We decided to build a second facility that specialized in those items and services at that time."
One of the distinguishing qualities of EBS is their customer service. They use the establishment and its trendy products as the ideal platform to educate. EBS Beauty Consultants are trained to deliver one-on-one consultations to everyone who comes into their stores.
We asked Lee why he chose to open at Holyoke Mall. "Holyoke Mall seemed like an ideal place for us to expand our business due to its popularity and diverse market space. It gives us an opportunity to serve a broader region and expand our brand," said Lee.
As a community neighbor, Lee recognizes the value of giving back in order to empower and build our ties with the people that live here. "We now provide employment possibilities to our members and seek to expand our community-based activities that support our youth's development," says Lee.
For anyone who wants to become an entrepreneur, Lee's advice is to "Be patient while pursuing your dreams, but to be consistent and disciplined in everything you do."
Visit www.hair413.com for more information on their products and services. You can also follow EBS on Instagram at @ebs413 or Facebook at @ethicsbeauty.