Holyoke Mall Extended Holiday Hours in December
December 23, 2020

|

IN What's Happening
Holyoke Mall has extended holiday hours for those last minute shoppers!  Guests are reminded that department store, restaurant and entertainment venue hours may vary and are encouraged to call ahead to confirm a specific venue's hours of operation.
Holyoke Mall continues to enforce sanitizing policies and procedures. All visitors to Holyoke Mall are reminded to follow our new Healthy Shopper Guidelines with Center for Disease Control (CDC) recommendations everyone must follow prior to entering the property.  You can view what we're doing to keep you safe here.
Following CDC-recommended guidelines
Simple personal hygiene is essential to minimizing the spread of the COVID-19 virus. Holyoke Mall is actively reminding and encouraging its employees, tenants and guests to follow CDC preventative measures as part of daily routines:
Wash your hands.
Wear a mask that covers your mouth and nose.  Mask must be worn inside and outside of Holyoke Mall.
Keep practicing social distancing.
Stay home if you're sick.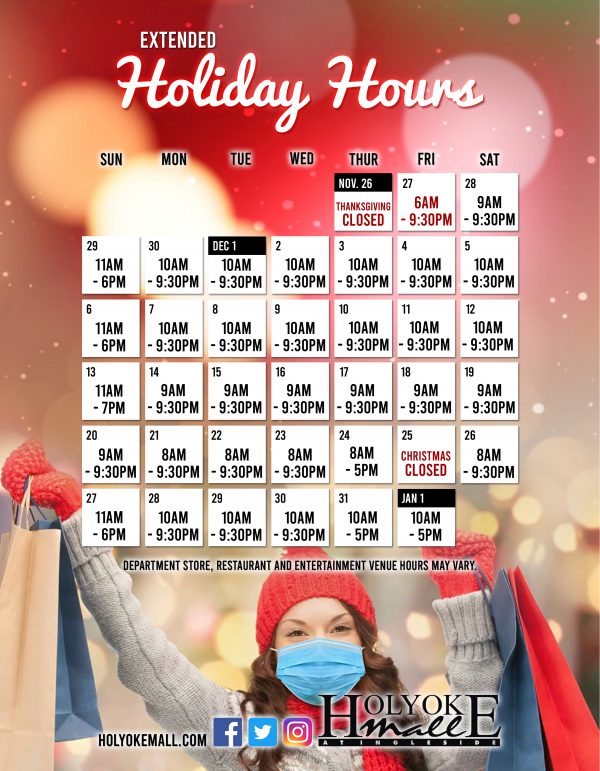 ---
ANCHOR STORE & ENTERTAINMENT VENUE HOLIDAY HOURS:
BEST BUY
DECEMBER:
Wednesday, 12/23 – 10:00 AM – 10:00 PM
Christmas Eve, Thursday, 12/24 – 8:00 AM – 7:00 PM
Christmas Day, Friday, 12/25 – CLOSED
Saturday, 12/26 – 11:00 AM – 7:00 PM
Sunday, 12/27 – 11:00 AM – 7:00 PM
Monday, 12/28 – 11:00 AM – 7:00 PM
Tuesday, 12/29 – 11:00 AM – 7:00 PM
Wednesday, 12/30 – 11:00 AM – 7:00 PM
New Year's Eve, Thursday, 12/31 – 11:00 AM – 7:00 PM
JANUARY:
New Year's Day, Friday, 1/1 – Open for Curbside Pickup Only
BURLINGTON
DECEMBER:
Wednesday, 12/23 – 7:00 AM – 10:00 PM
Christmas Eve, Thursday, 12/24 – 7:00 AM – 9:00 PM
Christmas Day, Friday, 12/25 – CLOSED
Saturday, 12/26 – 8:00 AM – 10:00 PM
Sunday, 12/27 – 9:00 AM – 10:00 PM
Monday, 12/28 – 9:00 AM – 10:00 PM
Tuesday, 12/29 – 9:00 AM – 10:00 PM
Wednesday, 12/30 – 9:00 AM – 10:00 PM
New Year's Eve, Thursday, 12/31 – 9:00 AM – 10:00 PM
CHRISTMAS TREE SHOPS
DECEMBER:
Wednesday, 12/23 – 8:00 AM – 10:00 PM
Christmas Eve, Thursday, 12/24 – 8:00 AM – 5:00 PM
Christmas Day, Friday, 12/25 – CLOSED
Saturday, 12/26 – 8:00 AM – 10:00 PM
Sunday, 12/27 – 8:00 AM – 10:00 PM
Monday, 12/28 – 8:00 AM – 10:00 PM
Tuesday, 12/29 – 8:00 AM – 10:00 PM
Wednesday, 12/30 – 8:00 AM – 10:00 PM
New Year's Eve, Thursday, 12/31 – 9:00 AM – 5:00 PM
HOBBY LOBBY
DECEMBER:
Wednesday, 12/23 – 9:00 AM – 8:00 PM
Christmas Eve, Thursday, 12/24 – 9:00 AM – 5:30 PM
Christmas Day, Friday, 12/25 – CLOSED
Saturday, 12/26 – 9:00 AM – 8:00 PM
Sunday, 12/27 – CLOSED
Monday, 12/28 – 9:00 AM – 8:00 PM
Tuesday, 12/29 – 9:00 AM – 8:00 PM
Wednesday, 12/30 – 9:00 AM – 8:00 PM
New Year's Eve, Thursday, 12/31 – 9:00 AM – 8:00 PM
JCPENNEY
DECEMBER:
Wednesday, 12/23 – 8:00 AM – 11:00 PM
Christmas Eve, Thursday, 12/24 – 8:00 AM – 6:00 PM
Christmas Day, Friday, 12/25 – CLOSED
Saturday, 12/26 – 10:00 AM – 9:00 PM
Sunday, 12/27 – 11:00 AM – 6:00 PM
Monday, 12/28 – 11:00 AM – 7:00 PM
Tuesday, 12/29 – 11:00 AM – 7:00 PM
Wednesday, 12/30 – 11:00 AM – 7:00 PM
New Year's Eve, Thursday, 12/31 – 11:00 AM – 7:00 PM
JANUARY:
New Year's Day, Friday, 1/1 – 11:00 AM – 7:00 PM
MACY'S
DECEMBER:
Wednesday, 12/23 – 8:00 AM – 12:00 AM
Christmas Eve, Thursday, 12/24 – 7:00 AM – 6:00 PM
Christmas Day, Friday, 12/25 – CLOSED
Saturday, 12/26 – 9:00 AM – 10:00 PM
Sunday, 12/27 – 11:00 AM – 7:00 PM
Monday, 12/28 – 11:00 AM – 9:00 PM
Tuesday, 12/29 – 11:00 AM – 9:00 PM
Wednesday, 12/30 – 11:00 AM – 9:00 PM
New Year's Eve, Thursday, 12/31 – 11:00 AM – 6:00 PM
JANUARY:
New Year's Day, Friday, 1/1 – 11:00 AM – 9:00 PM
TARGET
DECEMBER:
Wednesday, 12/23 -7:00 AM – 10:00 PM
Christmas Eve, Thursday, 12/24 – 7:00 AM – 8:00 PM
Christmas Day, Friday, 12/25 – CLOSED
Saturday, 12/26 – 7:00 AM – 10:00 PM
Sunday, 12/27 – 8:00 AM – 10:00 PM
Monday, 12/28 – 8:00 AM – 10:00 PM
Tuesday, 12/29 – 8:00 AM – 10:00 PM
Wednesday, 12/30 – 8:00 AM – 10:00 PM
New Year's Eve, Thursday, 12/31 – 8:00 AM – 9:00 PM
JANUARY:
New Year's Day, Friday, 1/1 – 8:00 AM – 10:00 PM
ROUND1 BOWLING & AMUSEMENT
DECEMBER:
Wednesday, 12/23 – 10:00 AM – 9:30 PM
Christmas Eve, Thursday, 12/24 – 10:00 AM – 9:30 PM
Christmas Day, Friday, 12/25 – 10:00 AM – 9:30 PM
Saturday, 12/26 – 10:00 AM – 9:30 PM
Sunday, 12/27 – 10:00 AM – 9:30 PM
Monday, 12/28 – 10:00 AM – 9:30 PM
Tuesday, 12/29 – 10:00 AM – 9:30 PM
Wednesday, 12/30 – 10:00 AM – 9:30 PM
New Year's Eve, Thursday, 12/31 – 10:00 AM – 9:30 PM
JANUARY:
New Year's Day, Friday, 1/1 – 10:00 AM – 9:30 PM